7 tips to consider while booking Mehendi and Make-Up Artist
As soon as the engagement is fixed, a lot is required to be done to make the wedding day a perfect event with a trail of events happening at the right time and all the arrangements in place. That's the reason why the period of courtship is extremely crucial and pre-bookings start beginning right from the start of this period. The families of brides and grooms start looking for best venues, best catering, best makeup artists in Jaipur for makeup, best mehendi places for a good mehendi function and a lot more.
If you are a would be bride and are short listing options for the best makeup artist services Jaipur, you must consider the following points-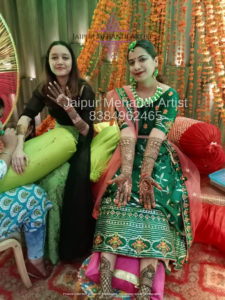 Choose a place that has one-stop solution
It becomes all the more convenient and hassle-free when you book a place that has all the services at one place. These services include-
Booking a mehendi artist in Jaipur that gives beautiful trendy mehendi designs for brides,

A salon for all bridal grooming needs in Jaipur for full body care,

A place for bride, groom and family members makeup as well as make up for all functions
You must book a place that has it all. There are few places that offer the premium services of Best airbrush makeup artist in Jaipur as well as also has the facility of best HD makeup artist in Jaipur along with the basic makeup looks for party guests and this gives you an option to go for the type of look that best suits your skin type or you can choose different types for various occasions based on your requirements plus your family members can also get ready from the same place.
Pre-book all your appointments well before in time
During the wedding season, all the places are mostly full because the bookings happen way before in time. This is because no one wants to miss out on getting bridal grooming in Jaipur from their favourite places and every bride has a dream to get her wedding makeup and makeover done from the best beauty salons in Jaipur. For this, the most important thing is to pre-book wedding makeup artist as soon as possible. This leads to avoiding the last minute hustle as well as getting the best results. Take our word on it, you wouldn't want to settle for less when it comes to wedding makeup and for that, pre-booking the wedding artist well before in time is the most ideal option.
Special attention to safety and care
Considering the current unprecedented times of the pandemic, safety has to be the top most priority and with wedding season on the roll, you must consider getting services from best bridal makeup artist in Jaipur that not only provides makeup artist services Jaipur but also pay full attention to your safety through hygienic make up practices and clean premises. We cannot emphasise more on the fact that if you are wondering who could be the best makeup artist near me, it would be the one offering most safety precautions. The one who follows things mentioned below will be the one you can choose as your wedding makeup artist –
No reuse of makeup products,

Proper sanitisation of the seats and equipment's,

Mask wearing by staff compulsorily, and

Following social distancing however possible

Checking temperature

Regulating staff symptoms

Maintaining proper hygiene
Choose a place that has at home, at venue option
To get the best party makeup in Jaipur, you might want the wedding makeup artist to come to your home or at the venue of your wedding or you may also be comfortable with visiting the place of the best bridal makeup artist in Jaipur. In all of these cases, the primary objective is to avail the best makeup services. Hence, choose the place that offers to provide the services the way you like. For example, for engagement they can give services at home and for wedding, you might want to go for the wedding venue. So the makeup artist must be flexible enough to cater to your diverse needs.
Go for a make-up artist that has an extensive experience
 Makeup is a tricky task and if done properly, it will make you the most beautiful women on your special day and if not done properly, one might end up feeling sad on their special day. Hence it is extremely important to go for the makeup artist services Jaipur from a place where they have good skill set and experience of dealing with all skin types and shades. They must also know the techniques of Best airbrush makeup artist in Jaipur and best HD makeup artist in Jaipur to fulfil your requirements and give best results. From making the perfect base to choosing the right shades from everything, from a fine look to a final touch up, everything has to be perfectly put together.
Ask for what kinds of products do they use
You should be aware of what kind of products does the makeup artist in Jaipur use to give you a makeover and best bridal look. The quality has to be premium so that it doesn't do any harm to the skin; the shades should match your skin tone and type, etc. Product and technique, both are equally important for achieving that fine look and you must be very attentive towards such details while short listing makeup artists for your wedding.
Look for the pricing
Last but never the least; Pricing is one important and decisive factor. Always choose the places that have reasonable prices for the quality of services they provide. However, this is also dependent on the premium quality of products they use and since, this is a once in a lifetime thing, we suggest you to not compromise on the quality of the services and go for a cheaper option. The good services reflect on your skin and make your day all the more special.
One place that fulfils all of these requirements is Jaipur Mehendi Artist, a one stop destination for Bridal Mehendi in Jaipur, also offering premium services of makeup artist for weddings and special occasions. They use premium quality products and the team is highly experienced in dealing with all skin types. They have basic makeup as well as Airbrush and HD makeup for trending look.
So take a conscious decision and get the best make up look for your wedding with these tips, Jaipur Mehandi Artist is one of them provide makeup and mehendi both services together in jaipur.
All the love and luck for a beautiful life ahead!